Advanced Malignant PEComa
Malignant PEComa is an ultra-rare sarcoma that appears to arise most commonly at visceral (especially gastrointestinal and uterine), retroperitoneal, and abdominopelvic sites1
Globally, there is ≤1 malignant PEComa diagnosis per 1,000,000 people annually,2 with an estimated 100-300 new patients per year in the US*
Patients are predominantly females and typically diagnosed between the ages of 45-65 years3
Advanced malignant PEComa is associated with a poor prognosis4
51% to 72% of patients with malignant PEComas develop metastatic disease within 12 to 23 months5-7
*Aadi analysis based on multiple sources, including Aadi internal data and external research conducted by Tessellon Group and Corsica Life Sciences.
PEComa=perivascular epithelioid tumor.
PEComas are a rare subset of soft tissue neoplasms composed of histologically and immunohistochemically distinctive epithelioid cells. Due to their rarity and relatively recent recognition, classification of PEComas has evolved; they may be broadly grouped into the following tumor types4,6:
Malignant and Benign PEComa in Context
Although most PEComas are localized and benign, malignant PEComa is characterized by locally invasive recurrence or distant metastatic lesions. Approximately 72% of patients with malignant PEComa will develop metastatic disease, most frequently to the lung or liver, over a median follow-up of 12-months.6,7
What does PEComa look like?
PEComas are characterized by the World Health Organization as mesenchymal tumors composed of distinctive perivascular epithelioid cells that show a focal association with blood vessel walls, and usually express both melanocytic and smooth muscle markers.6,8,9
Click on an image to enlarge.
From the personal image library of Jason L Hornick, MD, PhD; 2020.
Diagnosis of advanced malignant PEComa is based on a pathological evaluation, though misdiagnosis may occur due to overlapping immunophenotype (characteristic co-expression of melanocytic and smooth muscle markers) and histologic overlap with other tumor types.6,7,10
Potential misdiagnoses may include5-7,10:
Leiomyosarcoma
Clear cell sarcoma
Metastatic melanoma
Gastrointestinal stromal tumor (GIST)
Renal cell carcinoma (RCC)
The mTOR Pathway and PEComa
The mTOR pathway controls key cellular processes. Alterations or deletions in mTOR pathway genes, like TSC1 and TSC2, may lead to mTOR overactivation, which prompts uncontrolled cell growth, metabolism, and survival. Advanced malignant PEComa tumors have the highest rate of TSC1 and TSC2 alterations among cancers.11-16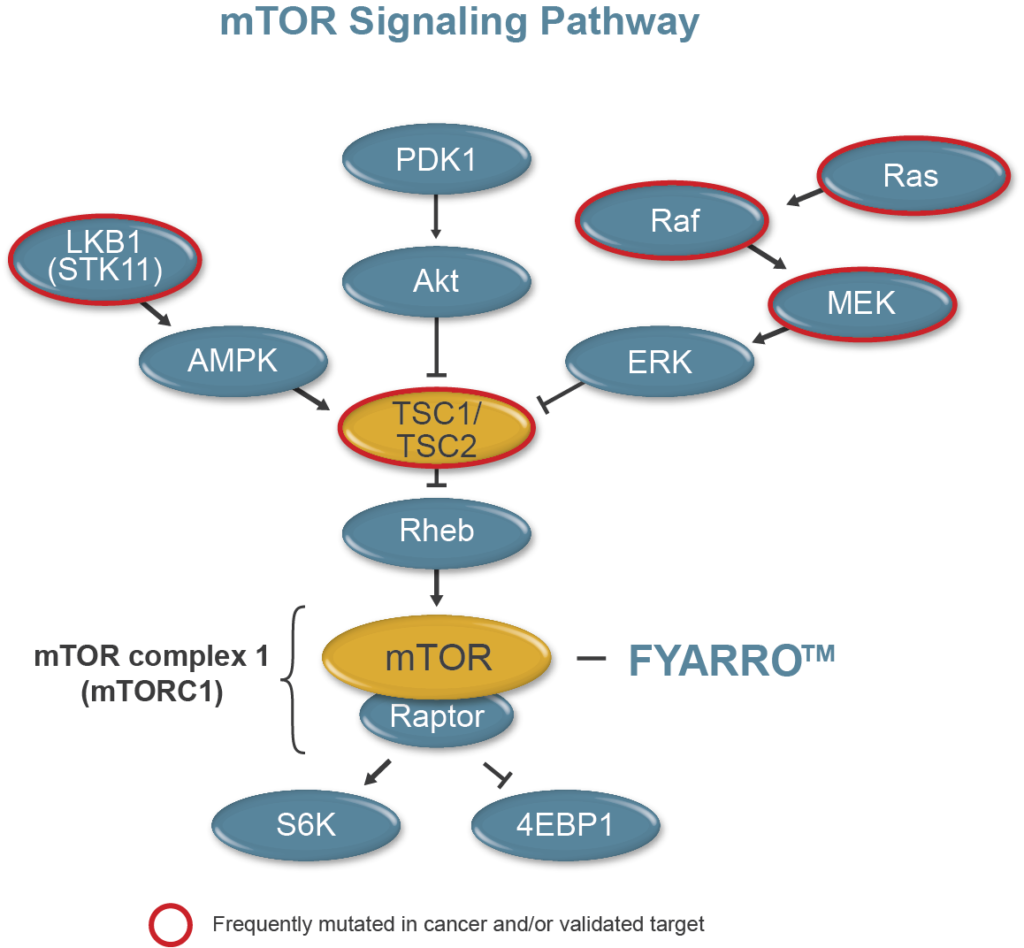 mTOR=mechanistic target of rapamycin; TSC1=tuberous sclerosis-1; TSC2=tuberous sclerosis-2.
mTOR=mechanistic target of rapamycin; TSC1=tuberous sclerosis-1; TSC2=tuberous sclerosis-2.
References:
Wagner AJ, Malinowska-Kolodziej I, Morgan JA, et al. Clinical activity of mTOR inhibition with sirolimus in malignant perivascular epithelioid cell tumors: targeting the pathogenic activation of mTORC1 in tumors. J Clin Oncol. 2010;28(5):835-840. doi:10.1200/JCO.2009.25.2981
Stacchiotti S, Frezza AM, Blay JY, et al. Ultra-rare sarcomas: a consensus paper from the Connective Tissue Oncology Society community of experts on the incidence threshold and the list of entities. Cancer. 2021;127(16):2934-2942. doi:10.1002/cncr.33618
Bourgmayer A, Nannini S, Bonjean P, Kurtz JE, Malouf GG, Gantzer J. Natural history and treatment strategies of advanced PEComas: a systematic review. Cancers (Basel). 2021;13(20):5227. Published 2021 Oct 18. doi:10.3390/cancers13205227
Armah HB, Parwani AV. Perivascular epithelioid cell tumor. Arch Pathol Lab Med. 2009;133(4):648-654. doi:10.5858/133.4.648
Bleeker JS, Quevedo JF, Folpe AL. "Malignant" perivascular epithelioid cell neoplasm: risk stratification and treatment strategies. 

Sarcoma

. 2012;2012:541626. doi:10.1155/2012/541626
Ben-Ami E, Hornick JL, Wagner H, Wagner AJ. The potential of emerging new therapeutics for the treatment of perivascular epithelioid cell tumors (PEComa). Expert Opin Orphan Drugs. 2018;6(9):537-543. doi:10.1080/21678707.2018.1493376
Tirumani SH, Shinagare AB, Hargreaves J, et al. Imaging features of primary and metastatic malignant perivascular epithelioid cell tumors. 

AJR Am J Roentgenol

. 2014;202(2):252-258. doi:10.2214/AJR.13.10909
Data on file. Aadi Bioscience, Inc.; 2021.

Folpe AL, Kwiatkowski DJ. Perivascular epithelioid cell neoplasms: pathology and pathogenesis. Hum Pathol. 2010;41(1):1-15. doi:10.1016/j.humpath.2009.05.011
Chen Z, Han S, Wu J, et al. A systematic review: perivascular epithelioid cell tumor of gastrointestinal tract. Medicine (Baltimore). 2016;95(28):e3890. doi:10.1097/MD.0000000000003890
Mossmann D, Park S, Hall MN. mTOR signalling and cellular metabolism are mutual determinants in cancer. Nat Rev Cancer. 2018;18(12):744-757. doi:10.1038/s41568-018-0074-8
Hay N, Sonenberg N. Upstream and downstream of mTOR. Genes Dev. 2004;18(16):1926 – 1945. doi:10.1101/gad.1212704
Gonzalez-Angulo AM, Meric-Bernstam F, Chawla S, et al. Weekly nab-rapamycin in patients with advanced nonhematologic malignancies: final results of a phase I trial. Clin Cancer Res. 2013;19(19):5474-5484. doi:10.1158/1078-0432.CCR-12-3110
Saxton RA, Sabatini DM. mTOR signaling in growth, metabolism, and disease [published correction appears in Cell. 2017 Apr 6;169(2):361-371]. Cell. 2017;168(6):960-976. doi:10.1016/j.cell.2017.02.004
Akumalla S, Madison R, Lin DI, et al. Characterization of clinical cases of malignant PEComa via comprehensive genomic profiling of DNA and RNA. Oncology. 2020;98(12):905-912. doi:10.1159/000510241
Wagner AJ, Ravi V, Riedel RF, et al. nab-Sirolimus for patients with malignant perivascular epithelioid cell tumors [published online ahead of print, 2021 Oct 12]. J Clin Oncol. 2021;JCO2101728. doi:10.1200/JCO.21.01728
Gennatas C, Michalaki V, Kairi PV, Kondi-Paphiti A, Voros D. Successful treatment with the mTOR inhibitor everolimus in a patient with perivascular epithelioid cell tumor. World J Surg Oncol. 2012;10:181. Published 2012 Sep 3. doi:10.1186/1477-7819-10-181