PEComas are a rare subset of soft tissue sarcomas recently recognized as a distinct entity by the World Health Organization in 2002 and are composed of histologically and immunohistochemically distinctive epithelioid cells.
PEComas appear to arise most commonly at visceral (especially gastrointestinal and uterine), retroperitoneal, and abdominopelvic sites.
Most PEComas are benign, but there is a subset of PEComas, i.e., advanced malignant PEComas [1], for which there are currently no approved therapies and for which there are only a few case reports in the literature.
The prognosis for this patient subset is poor, with a median survival estimated to be 12-17 months following diagnosis of advanced disease [2].
Overactivation of the mTOR pathway has been reported in malignant PEComa, and mTOR inhibitors have shown anecdotal efficacy in this indication in case reports or retrospective studies [1].
Aadi's phase 2 registrational trial for FYARROTM (nab-sirolimus, ABI-009) in patients with advanced PEComa (Perivascular Epithelioid Cell tumors) has been completed.
FYARROTM (nab-sirolimus, ABI-009) has received Orphan Designation for PEComa as well as Fast Track and Breakthrough Therapy Designations for advanced (metastatic or locally advanced) malignant PEComa.
Aadi is also a recipient of FDA's Orphan Product Development Grant for this indication.
The FDA has accepted Aadi's NDA for filing with a November 26, 2021 PDUFA target action date
What does PEComa look like?​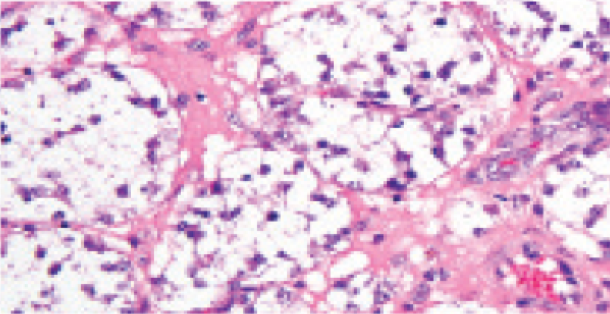 Nested architecture and clear cell features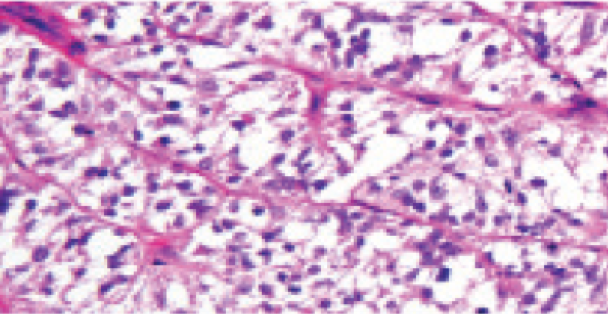 Trabecular architecture and capillary vascular network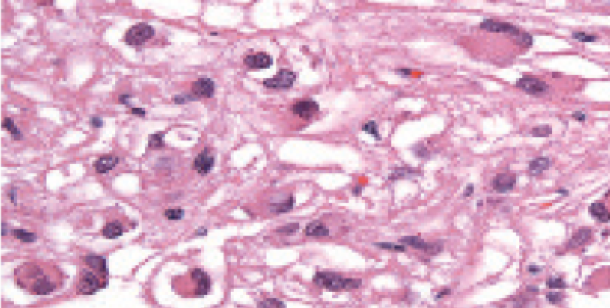 Epithelioid cell with granular eosinophilic cytoplasm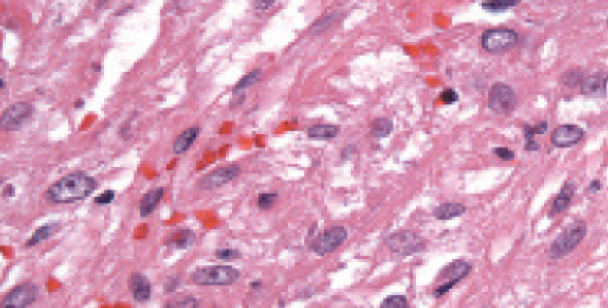 Smooth muscle-like spindle cell morphology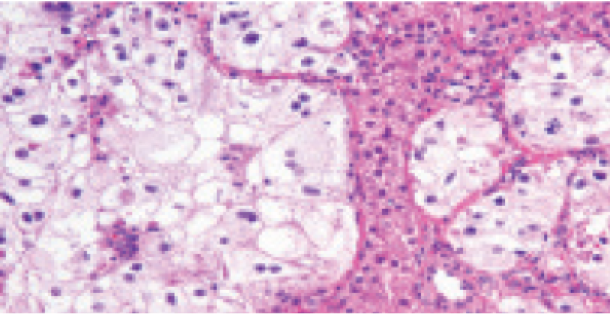 Metastatic malignant PEComa to liver: nested architecture, clear cell morphology, and mitotic activity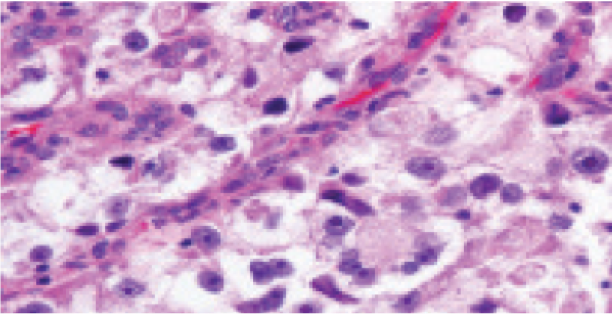 Malignant PEComa: marked nuclear atypia including macronucleoli and multinucleate cells
How is malignant PEComa diagnosed?​
Classification of tumors[3-5]
Features worrisome for malignancy*:
• Large tumor size
• Marked nuclear atypia
• Pleomorphism
• Mitotic activity
• Necrosis
• Infiltrative margins
*Firm minimal criteria for malignancy have not yet been established.
Immunohistochemical (IHC) and Cytogenetic Markers<br>
Comparison of PEComa and its main differential diagnoses[6]
Personal communication from Dr. Jason Hornick, 2020.
+++, >75% of cases; ++, 50%–75% of cases; +, 25%–50% of cases; –, 0% of cases.
MiTF, microphthalmia transcription factor; SMA, smooth muscle actin.
The somatic deletion of 16p, on which the TSC2 gene is located, is a common cytogenetic finding of PEComa-NOS. Studies have suggested an oncogenetic relationship of malignant PEComas as a TSC2-linked neoplasm[5].
1. Wagner AJ et al. (2010). J Clin Oncol 28, 835-840.
2. Bleeker JS et al(2012). Sarcoma 2012, 541626
3. Ben Ami E, Hornick JL, Wagner AJ. The potential of emerging new therapeutics for the treatment of perivascular epithelioid cell tumors (PEComa). Expert Opin Orphan Drugs. 2018;6(9):537-543. doi:10.1080/21678707.2018.1493376. 
4. Folpe AL, Kwiatkowski DJ. Perivascular epithelioid cell neoplasms: pathology and pathogenesis. Human Pathology. 2010;41:1-15. 
5. Armah HB, Parwani AV. Perivascular epithelioid cell tumor. Arch Pathol Lab Med. 2009;133(4):648-654. doi:10.1043/1543-2165-133.4.648. 
6. Data on file. Aadi Bioscience.