PEComas are a rare subset of soft tissue sarcomas recently recognized as a distinct entity by the World Health Organization in 2002 and are composed of histologically and immunohistochemically distinctive epithelioid cells.
PEComas appear to arise most commonly at visceral (especially gastrointestinal and uterine), retroperitoneal, and abdominopelvic sites.
Most PEComas are benign, but there is a subset of PEComas, i.e., advanced malignant PEComas [1], for which there are currently no approved therapies and for which there are only a few case reports in the literature.
The prognosis for this patient subset is poor, with a median survival estimated to be 12-17 months following diagnosis of advanced disease [2].
Overactivation of the mTOR pathway has been reported in malignant PEComa, and mTOR inhibitors have shown anecdotal efficacy in this indication in case reports or retrospective studies [1].
AADi's phase 2 registrational trial for nab-sirolimus (ABI-009) in patients with advanced PEComa (Perivascular Epithelioid Cell tumors) has been completed.
nab-sirolimus (ABI-009) has received Orphan Designation for PEComa as well as Fast Track and Breakthrough Therapy Designations for advanced (metastatic or locally advanced) malignant PEComa.
AADi is also a recipient of FDA's Orphan Product Development Grant for this indication.
For information on our Expanded Access Program for nab-sirolimus (ABI-009) in patients with advanced PEComa and patients with malignancies with relevant genetic mutations or mTOR pathway activation please see: https://clinicaltrials.gov/ct2/show/NCT03817515
You can check out more info about our PEComa study and eligibility in our dedicated website here: http://www.mypecomastudy.com/
1. Wagner AJ et al. (2010). J Clin Oncol 28, 835-840.
2. Bleeker JS et al(2012). Sarcoma 2012, 541626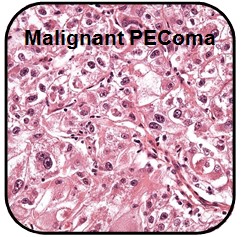 Advanced (unresectable or metastatic) PEComa
Ultra-orphan indication
mTOR activation, loss of TSC1 or TSC2 reported